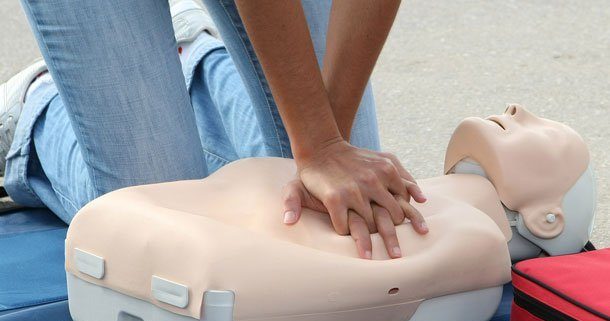 With the nature of our class, we want to be accommodating to mask wearers and non mask wearers.  Please come into the class with a mask on.  If you have questions please ask your instructor.  
The Adult and Pediatric First Aid/CPR/AED course incorporates the latest science and teaches students to recognize and care for a variety of first aid emergencies such as burns, cuts, scrapes, sudden illnesses, head, neck, back injuries, heat and cold emergencies and how to respond to breathing and cardiac emergencies to help victims of any age – adults (about 12 years and older) and pediatric (infants and children up to 12 years of age). Students who successfully complete this course will receive a certificate for Adult and Pediatric First Aid/CPR/AED valid for two years.
Choose Your course
Adult & Pediatric First Aid/CPR/AED $80
Adult First Aid/CPR/AED $70
Adult CPR/AED $60
First Aid (online)
Did you know that every year there are more than four million injuries and 4,500 deaths among American workers on the job?
Prepare your workplace to respond with First Aid/CPR/AED courses from the premier provider of OSHA-compliant health and safety training. Our First Aid/CPR/AED program is ideal for workplaces, schools and community groups.
Core Skills:
• Breathing and cardiac emergencies (CPR, AED, choking)
• Injuries (broken bones, burns, cuts, stings)
• Sudden illnesses (heat/cold emergencies, allergic reactions)
Course Length:
Course length depends on modules taken. Traditional classroom ranges between 2—5 hours.
More Value and Greater Convenience:
• Meets OSHA standards and science guidelines
• 2-year certification
• Free digital or affordable print course materials
• Centralized support for businesses with multiple locations
• Continuing education units available