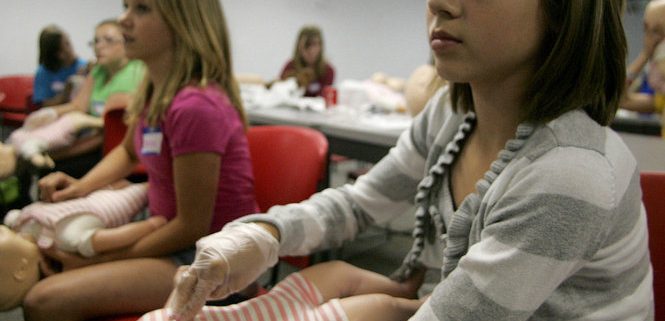 CPR only or the full Babysitting Safety course ==OPTIONS!
CPR the first 2 hours and the rest of the class is filled with babysitting safety instruction, practice and materials.
REGISTER HERE
The new Child and Babysitting Safety (CABS) program from ASHI gives teenagers and young adults everything they need to know for safe and successful babysitting. From getting started with their business, to dealing with parents and children, to key safety, caregiving, and first aid tips, the magazine-format CABS guide and vlogger-style video make learning fun.
Perfect For
Teens and young adults interested in a babysitting business, or who have responsibility for younger family members.
Skills Evaluation
Students must perform required skills competently without assistance.
Successful completion is based on achievement of the core learning objectives rather than a prescribed instruction time.
CPR/AED
Adult & Pediatric CPR/AED Training class for Teenagers only.  Want you kids to know how to do CPR?  Send them to us.  Seating is limited so register today!!
Each participant must
Attend all lecture
Participate in the hands on skill activities
Successful completion of Skills, Quiz and class participation each will earn a 2 year CPR/AED Certification card.
Cards Issued on Site!
Superior training to
improve CPR and AED
skills retention
Did you know that the current survival
rate for sudden cardiac arrest is less than
7%? Dramatically improve those odds with
training that prepares your students to
respond to choking, breathing and cardiac
emergencies. Students will also learn how to
use an automated external defibrillation unit
(AED) in conjunction with CPR.
Participants Learn How To:
✔ Take action in a medical emergency
✔ Assess the victim
✔ Provide basic life support, including airway
management, breathing and circulation
✔ Use an AED